Beats
Welcome to 'My Dad Makes' Beats. Every day artists & creators discover the best beats in our beat store.
"Whether it's a futuristic trap loop, a sexy dembow rhythm for a moombahton drop, a loungy chord progression in a tropical dance remix, or a dramatic piano lead on the chorus to add a cinematic mood; these hybrid instrumentals all have a lively ingredient for your project."
If you wish to upgrade your current non-exclusive lease or free beat, please click here.
Non-exclusive beat licenses
Disclaimers:
Verbal and/or written credit must be given to the producer on all projects where the beat is used. Credit must be written and verbalized as "Prod. by My Dad Makes Beats" or "Produced by My Dad Makes Beats". 

Please refer to each license for further details on royalty splits pertaining to each license type and agreement.
Videos
YouTube Channel
My Dad Makes Beats is also a YouTube channel that documents the producer's struggle with balancing a career in music and maintaining a family and home. Be it songwriting and recording or playtime and diaper changes. You can also tune in to the series to find more beats, tutorials, behind the scenes footage, and inspirational stuff.
MDMB Mashups: Mashups, Remixes, DJ Sets, and More!
The MDMB Mashups channel is a division of My Dad Makes Beats. MDMB Mashups is dedicated to song mixes, remixes, edits, and mashups! Creating new works from current commercialized music. My Dad Makes Beats is the umbrella service for beats, song-writing, and lifestyle blogging. 
As if Manhattan apartments were not cramped enough, the beat-maker sacrificed valuable space to turn his bedroom into a studio. Thereby, making the small apartment in Washington Heights, even smaller. Believe it or not, for the sake of his family. Doing what he loves and being present for his kids is never-resting. By turning a 15-year beat-making frenzy into a full-time music career, he is making his children proud and encouraging them to follow their calling. He is making beats and making ends meet. Keeping work/life balance is the ethos of My Dad Makes Beats.
Musical release, "Danza Zapote" Out on Spotify Now!
Produced in Cali, Colombia, Danza Zapote was both a concept single and electronic-driven folk-dance tour-de-force, drawing comparisons with other Latin EDM releases. "Sapote" (spelled, 'Zapote' in the beat) is an exotic fruit found throughout Latin America.
In a studio floor full of toys, family pictures, and finger paintings, J.Granobles finds inspiration and imagination at home where he is fathering his trademark sound and pushing it to a new creative space. If producing is like coloring then his beats are like coloring outside the lines. The palette of soundscapes and styles have no borders and play without rules to arrive at a work of art that is larger than the current trends yet piecing the puzzle together. Taking today's Urban scene and doing it with his distinguished twist and orphaned sound. Thereby, filling voids in the musical landscape.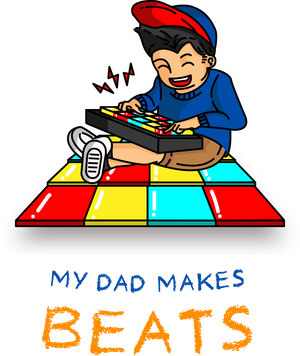 About
Radio
In an interview with WSVX Giant Real Radio FM, J. Granobles was able to air his single, "SantaCon 2.0" from the LIFE IS SUITE Music imprint on the radio show, "A Trip with Penny Lane". He also took the opportunity to offer the listeners a free download of his track, "No Reservation" in exchange for emails. Having his musical productions previewed on the Indiana airwaves was a proud and memorable milestone for the NYC producer as it helped grow his mailing list, raise his digital sales, increase his amount of streams, and gain more views for his videos and social media.
"

...a lot of fun and timely...a big impact... very interesting... a happening thing... J. Granobles lives his music and shares his journey" - Penny Lane Diersing
Shows
J. Granobles is consistently performing and DJing throughout NYC gigs like the famed, "Club Space Ibiza", "Ravel Penthouse 808", "Subrosas", and "Latin Quarters LQ's" where he opened for acts like The Cube Guys, and Audien. He's also writing jingles for products like the energy supplement, "BrainGO!", providing theme and cues for podcasts like the "Curious Podcast with Liz Reyes", and doing other musical works for ads and blogs with success on streaming platforms with the dance release titled, "Danza Zapote". Also, he has created mixes, mashups, and remixes.